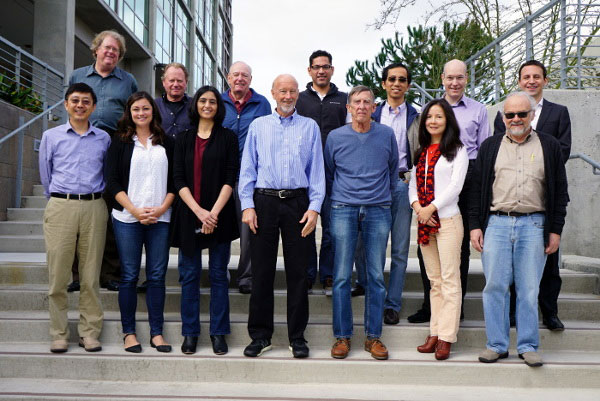 (TOP ROW: Todd Holmes; Eric Pearlman; Kenneth Baldwin; Armando Villalta; Rongsheng Jin; Francesco Tombola; Milton Greenberg; BOTTOM ROW: Qin Yang; Devon Lawson; Medha Pathak; Michael Cahalan; Stephen White; Lan Huang; Albert Zlotnik)
Faculty:
Click on the faculty member's name for more information about them.
Michael D. Cahalan, Distinguished Professor and Department Chair
Research interests: Ion channels, calcium signaling, and cell interaction dynamics in the immune system.
J. Jay Gargus, Professor and Director of Center for Autism Research and Translation
Research interests: functional genomics; molecular pathophysiology of ion pumps, channels, and signaling. 
Todd C. Holmes, Professor and Department Vice Chair
Research interests: ion channels, cellular physiology, neural circuits and behavior; circadian and visual circuits.
Lan Huang, Professor
Research interests: Proteomics / mass spectrometry; protein modifications and interaction: proteasomes.
Rongsheng Jin, Professor
Research interests: Structure and function of synaptic proteins; neurotoxins and receptors; protein complexes.
Medha Pathak, Assistant Professor
Research interests: Piezo1, ion channels, stem cells, neural stem cells, differentiation, development, mechanical forces, matrix, environment.
Eric Pearlman, Chancellor's Professor and Director of Institute for Immunology
Research interests: Innate immunity, bacterial infections, fungal infections, neutrophils, cornea, eye.
Francesco Tombola, Associate Professor
Research interests: Electrical and chemical sensing in excitable cells, VSD-containing ion channels and enzymes.
Armando Villalta, Assistant Professor
Research interests: Immune cell and organ system interactions that promote tissue injury and repair.
Qin Yang, Assistant Professor
Research interests: Epigenetic regulation of insulin resistance and energy expenditure in obesity and type 2 diabetes.
Albert Zlotnik, Chancellor's Professor and Graduate Faculty Advisor
Research interests: Chemokines, cancer metastasis, genearray analysis of human diseases and bioinformatics in immunology.
PROFESSOR EMERITUS:
Irwin A. Rose
Research interests: Recycling of enzymes after catalysis.


Larry VickeryResearch interests: Molecular chaperones, protein structure and folding, iron-sulfur proteins.
JOINT FACULTY APPOINTMENTS:
ADJUNCT FACULTY:
Gregory R. Adams, Associate Adjunct Professor (Recall)
Research interests: Skeletal Muscle Hypertrophy Atrophy Growth Factors Cytokines.
Milton Greenberg, Assistant Adjunct Professor/MedEd Course Director
Research interests: Medical Physiology Instruction